The Importance of Energy Benchmarking for K-12 Schools
In today's economic climate, you realize that every cent matters for your school district. But you've already trimmed as much as you could at this point. So, how else can you save money in your district?
Two words: energy benchmarking.
Energy benchmarking is a process that involves tracking your energy use and comparing performance across similar building types. Then, you can use this information to see which ones would benefit most from energy efficient improvements. You can also use the data to see which buildings deserve recognition like an ENERGY STAR certification.
In other words, energy benchmarking is a way for you to save money while also going "green" by creating energy efficient schools.
Top performing ENERGY STAR labeled schools cost forty cents per square foot less to operate than the average performers.

U.S. Department of Energy
Here's a rundown on how your district can save money and benefit the environment with energy benchmarking for K-12 schools. Let's get started!
Data Collection for Energy Benchmarking
K-12 schools spend $6 billion annually on energy. However, they could trim a quarter of these costs by being smarter with their energy usage. In light of the above, it's a wise move to use energy management software to track your schools' energy usage.
This type of software can help you to easily view cost and use metrics for a building portfolio or by individual buildings. This is possible using information from sources such as utility invoices directly from your utility companies, or perhaps an existing bill pay system.
Tracking this information is important because not all facilities will utilize the same amounts of energy. This is true even if they have similar equipment and designs.
What determines a facility's energy usage is how the buildings are operated, and whether the buildings have undergone upgrades.
In fact, according to the U.S. Environmental Protection Agency, simple behavioral and operational measures alone can reduce energy costs by up to 25 percent.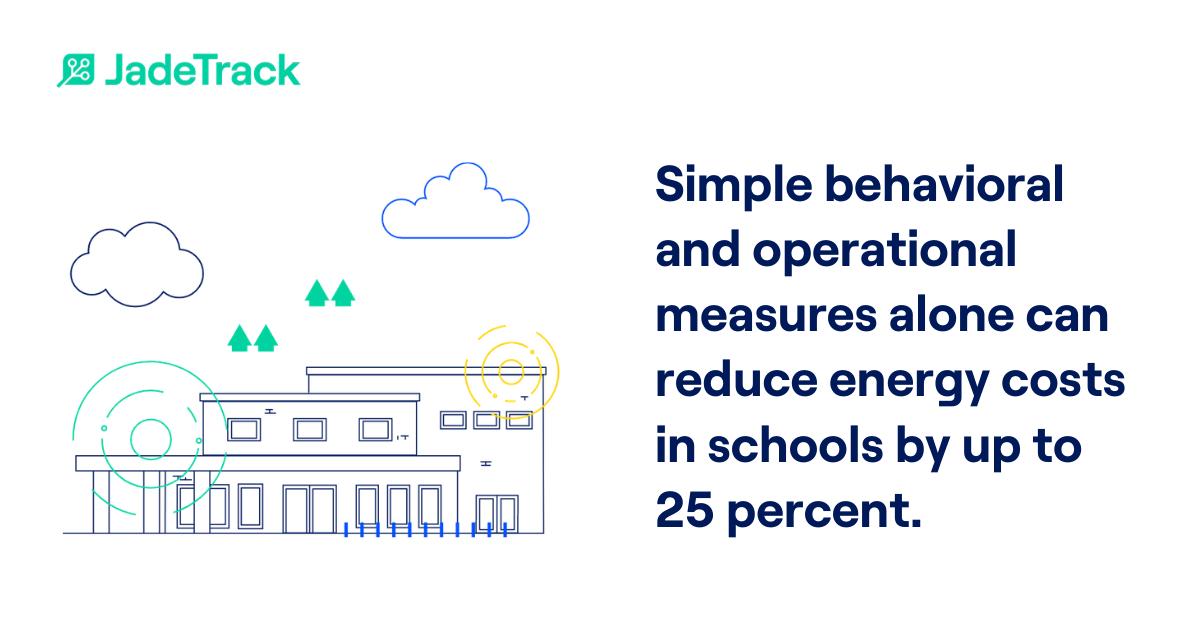 ENERGY STAR® Portfolio Manager®
Portfolio Manager is an important tool to have in your toolkit when you start benchmarking energy for K-12 schools.
After collecting 12 months of energy data for your school, you can input this information and your property details into the Environmental Protection Agency's free tool ENERGY STAR Portfolio Manager.
You'll then see several school performance metrics, which include an ENERGY STAR score ranging from 1 to 100. The score will tell you how well your district is faring compared with other school districts across the United States.
For instance, if you have a score under 50, this means that your performance is worse than half of similar school districts nationwide. Meanwhile, if you earn a score of 75, you are a top performer. As a result, you might receive ENERGY STAR certification.
Data collected for all properties in ENERGY STAR:
Property Name
Property Address
Total Gross Floor Area of Property
Number of Buildings
12 consecutive months of energy data
Additional information that is required for K-12 schools to get an ENERGY STAR score:
How We Help with Creating More Energy Efficient Schools
We offer top-of-the-line energy management software that will allow your school district to easily track energy consumption and costs.
With our software, you can automate your utility bill management. This reduces the time-consuming process of entering your utility bill data manually into spreadsheets or other systems.
The great thing about using energy management software like JadeTrack is that with it, you can easily synchronize your district's data with ENERGY STAR Portfolio Manager. This makes it effortless to compare the performance of your buildings and establish efficiency goals.
Try out our automated utility bill management and energy benchmarking tool with a free demo, and get your district on the path to having more energy efficient schools in the months and years ahead.