Why Track Energy Consumption in Schools?
Energy consumption is something that should be managed, no matter what type of building it is. Schools are no exception. In fact, schools are uniquely important buildings when it comes to energy management and sustainability.
When looking at the reasons why it's important to track and reduce energy usage, it is easy to see the advantages. Students, teachers, administrations, and entire communities can benefit from reduced energy costs, increased visibility to sustainability initiatives, and hands-on learning opportunities.
1. Promote Sustainability
When it comes to tracking energy consumption in schools, saving money is typically the first benefit that gets discussed. How much energy are schools even using and is it worth it? According to the U.S. Department of Energy, the annual energy bills for k-12 schools in the United States total $6 billion. That's a lot of energy in terms of dollars but also the less visible carbon emissions escaping into the environment.
When schools track and manage their energy data, they can begin to understand it. This leads to awareness about how to operate the school facilities more sustainably.
A perfect example of how tracking energy consumption helped a school district to become more efficient is our partners at Dublin City Schools. At the end of 2016, the district analyzed their energy consumption and decided to make the necessary changes to reduce energy consuming activities. In addition to the appropriate replacements of equipment and changes in student, teacher, and staff behavior, Dublin City Schools increased their ENERGY STAR® Score from 55 to 75; Saving their district over $60,000 in under a year.
Those savings can now be directed towards the Dublin City Schools' students and classrooms!
Photo by: Dublin City Schools
2. Boost Student Engagement
Managing energy in schools is not just something that the administration and faculty must be involved with; students are an essential part of its success. With energy management of the school facilities, comes the opportunity to teach and engage students in how to be more conscious of their energy usage. Many students are not aware of how their actions impact the energy consumption of the building where they spend the majority of their day.
By educating students with the energy data from their own school facilities, they will be able to change behaviors and conserve resources on their own time as well as during their time at school. How can energy management be taught in the classroom? It starts by incorporating the information to enhance lesson plans and asking students to explore real-world situations.
In partnership with the PAST Foundation, our newly launched Energy4Learning program helps teachers involve their students in the practice of energy management!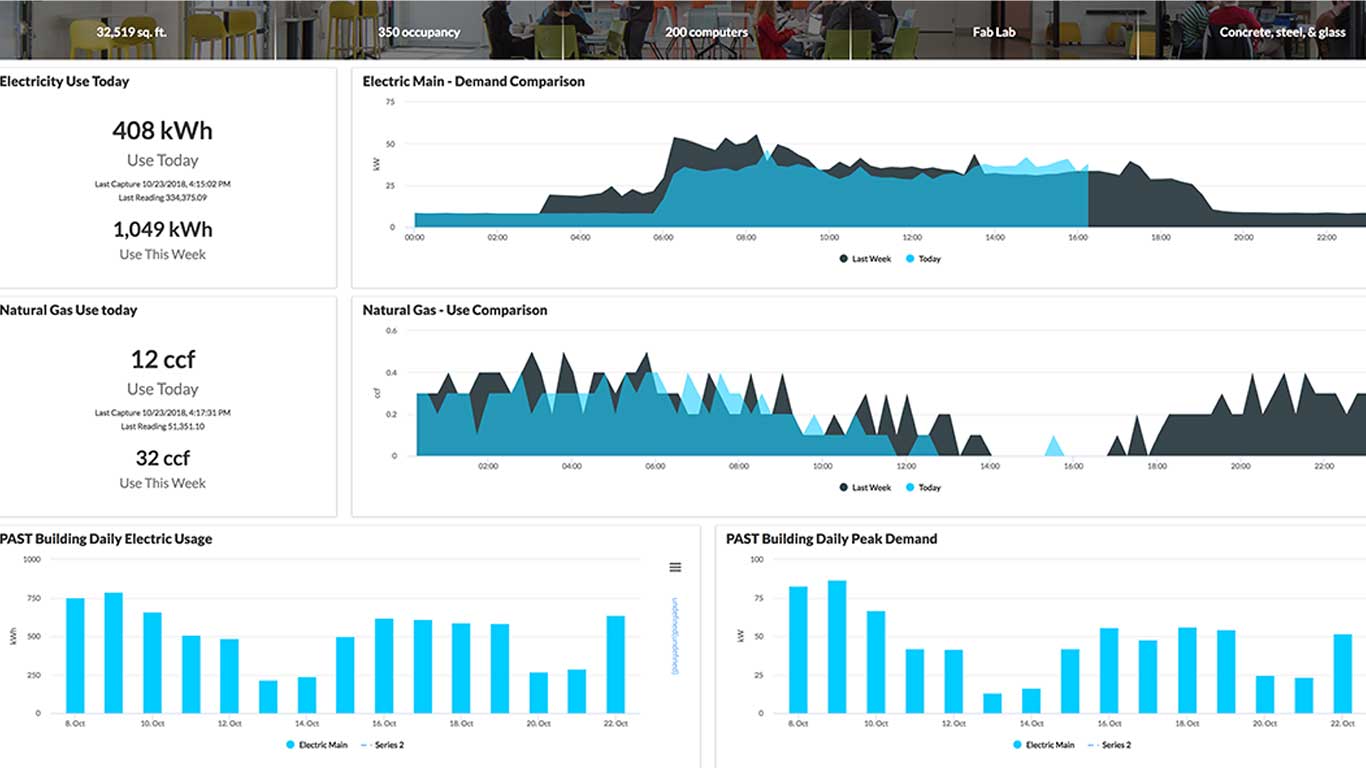 Example of a JadeTrack dashboard showing the PAST Foundation facility data
3. Meet Benchmarking Requirements
Each day, more and more regulations are put into place to make sure buildings are running as efficiently as possible. One of the most popular forms of regulation is through mandatory energy benchmarking for buildings. Governments in over 25 major cities throughout the United States have already put in place legislation that mandates reporting of energy consumption.
Recently, 11 of these cities have adopted policies making it mandatory to meet energy management performance targets. Given these numbers, it is crucial that schools are able to track and manage their energy consumption. With energy management and the ability to obtain their ENERGY STAR scores, school districts are able to stay ahead of the regulations and avoid paying hefty fines to the government.
ENERGY STAR scores can also be a fun way to see how your school stacks up against others in your area! Looking for better ways to track and reduce your school's energy consumption? Send us a message below.
For more information on how to make energy data and analysis an integrated part of the energy management program at your school or district, enter your information below.