JadeTrack Earns ENERGY STAR® Excellence Award in Data Innovation
Today we're proud to announce that the U.S. Environmental Protection Agency (EPA) and the U.S. Department of Energy (DOE) have recognized JadeTrack with the 2020 ENERGY STAR Excellence Award in Data Innovation.
JadeTrack has been an ENERGY STAR partner since 2015. From the beginning, our mission has been to connect businesses with their energy data, working alongside ENERGY STAR and fellow partners to help customers save energy, save money, and cut greenhouse gas emissions. We couldn't be more proud of the team's contributions to make these goals a reality!
The Best Kept Secret in Data Innovation?
The Excellence Award for Data Innovation recognizes JadeTrackfor establishing the Automated Benchmarking Program, the first program in the country to run two utility systems through the same platform leveraging ENERGY STAR Portfolio Manager.
The approach of the Automated Benchmarking program demonstrates industry best practices through close collaboration between two independent energy companies – an electric distribution utility and a natural gas utility – to help customers easily view a complete picture of their energy use and connect to Portfolio Manager.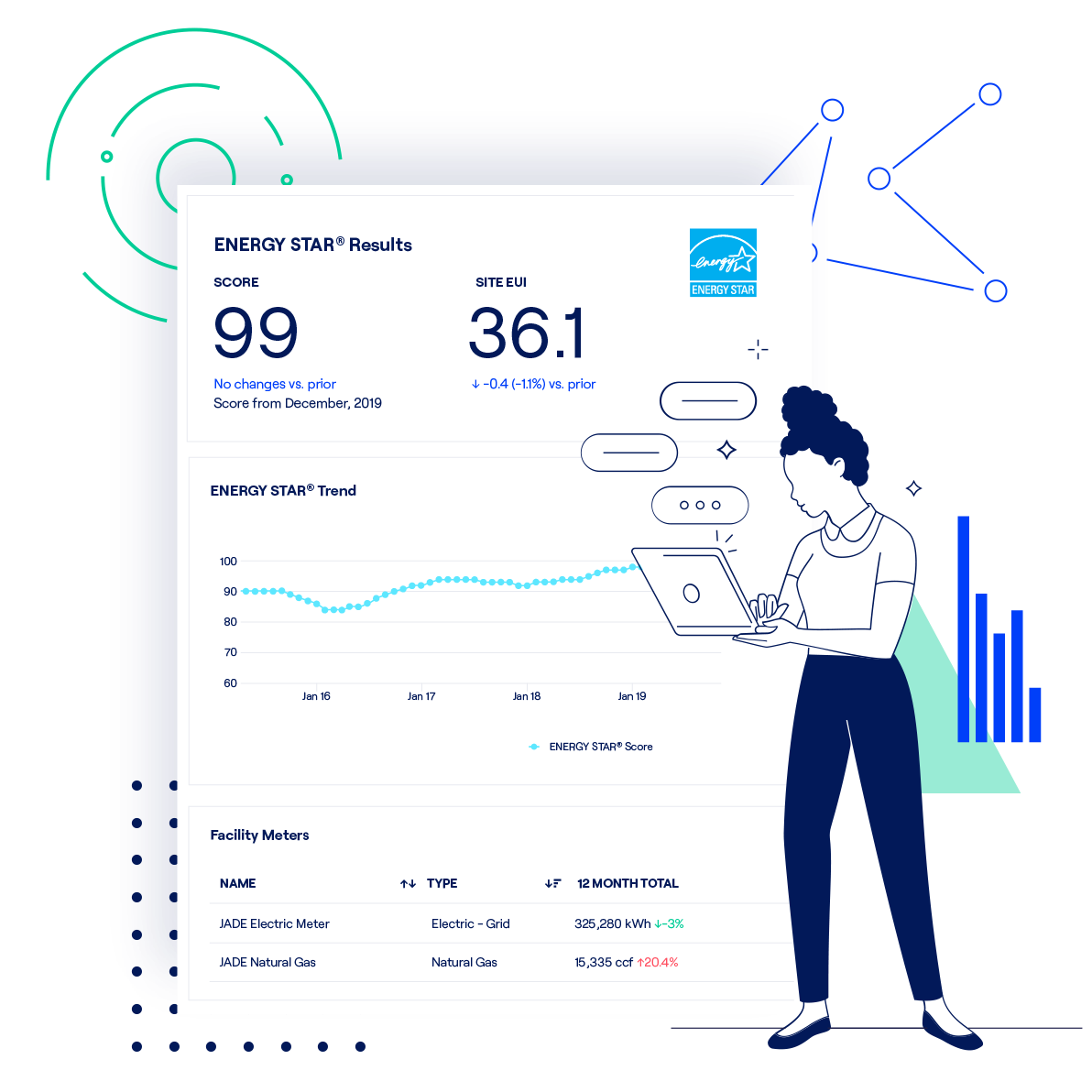 The result is an improved customer experience that some are calling a "breath of fresh air" for the industry – and we agree! The joint Automated Benchmarking program in Ohio serves as a model for other utility companies across the country to collaborate and innovate together.
National accounts, medium, and small-sized businesses all win with this collaboration. Here are a few of the top reasons Automated Benchmarking is simplifying energy management for them…
Program Perks
Benchmarking seems like a daunting task at first—even with the relative ease of ENERGY STAR online tools. "A customer feels like they have to sit down with a pile of information – like they're doing their taxes," said a principal engineer with the electric utility.
Fortunately, the new benchmarking tool greatly simplifies the benchmarking process for commercial & industrial customers to understand and manage their energy use more proactively with ENERGY STAR. Like income tax software, it takes only a few minutes to receive an ENERGY STAR score after a customer enters their information.
Data Automation
Early on, customers requested access to data from both their electric and natural accounts, since the combined data is necessary for customers to receive an accurate ENERGY STAR score. 
One of the most significant benefits of the program is automating the upload of a customer's electric and gas usage data into ENERGY STAR Portfolio Manager.
Thanks to data automation, Automated Benchmarking eliminates the time consuming and often error-prone process of manually entering data each month from two utilities and the daunting process of gathering up to 36 months of historical utility data to use for identifying trends and improvements.
Accurate & Timely
Logging into the platform, customers can view up-to-date usage data in a secure online platform so they can reduce energy consumption, save money and minimize energy-related impacts on businesses.
The platform provides:
36 months of historical usage data from both utilities
Ongoing monthly usage updates (no monthly data entry needed after registering)
Current ENERGY STAR scores and site Energy Utilization Index (EUI) data
All automatically! Saving valuable time and resources.
Self-service
Automated Benchmarking is a self-service tool that takes customers about 15 minutes to set up.
Regular review of their ENERGY STAR scores and/or EUI shows how their facility stacks up against other buildings of similar size, industry, and location—quickly identifying the buildings that are most or least efficient.
Taking control of energy use with Automated Benchmarking not only means bragging rights with a better ENERGY STAR score, but it also equates to cost savings and lower emissions.
According to a study by the U.S. EPA, buildings that consistently benchmark energy performance realized savings every year, as measured by average weather-normalized energy use intensity. Their average annual savings were 2.4%, with a total savings of 7.0% over the period of analysis.
Reporting Compliance
The program is timely, given the recent energy benchmarking & transparency policy adopted by the City of Columbus to reduce city-wide energy consumption and emissions from buildings.
According to the City of Columbus, the new ordinance will require buildings 50,000 square feet and over to track their whole-building energy and water use and share this data with the City beginning in 2021.
In regards to the new policy, the Automated Benchmarking platform pulls data from the utilities and syncs it with user's Portfolio Manager accounts, automating a majority of the data collection process required for the new reporting requirements.
Making A Movement
JadeTrack represents just one of several award winners across different categories recognized by the EPA for a wide range of outstanding projects.
"I salute the 2020 ENERGY STAR award winners. These leaders demonstrate how energy efficiency drives economic competitiveness in tandem with environmental protection."

Anne Idsal, EPA Principal Deputy Assistant Administrator for Air and Radiation
But the work isn't over. In order to expand our impact, ENERGY STAR and our partners can't do it alone! YOU are an essential part of the equation. What are you doing to reduce your energy usage and what steps can your business take to be more energy efficient in the future?
For a complete list of 2020 ENERGY STAR award winners and more information about the awards program, visit energystar.gov/awardwinners.