Meet The Team Revolutionizing STEM Learning In Ohio
One of the challenges facing us today is how do we best align education with the skills that are needed in the workforce? To address this question, JadeTrack has teamed up with organizations that are working to revolutionize educational programs and STEM learning in Ohio.
PAST Foundation student working on an assignment
Energy4Learning Partnership
Now with the formation of a formal partnership between JadeTrack and the PAST Foundation including support from IGS Energy, New Albany Plain Local Schools, Air Force One, and DENT Instruments, the team has created a program that offers students an opportunity for real world experiences.
"DENT Instruments is honored to support JadeTrack and the PAST Foundation and to be a part of their forward-thinking STEM program. As a technology company, we recognize that STEM education is critical to building excitement around science and math and is key to developing the next wave of innovative thinkers." 

DENT Instruments
It started in Columbus right down the street from JadeTrack HQ at the PAST Foundation, a non-profit provider of STEM education, school design, and workforce development. PAST is the nation's only research and development prototyping facility for STEM education. At the PAST innovation lab, kids are encouraged to take advantage of flexible and adaptive learning opportunities.
"Air Force One has enjoyed a long partnership with JadeTrack and we're proud of the work we've done together in the K-12 space and beyond. And of course, we're continually impressed by the mission of the PAST Foundation and all they do to promote innovative education.  We are big proponents of furthering STEM in schools, so the Energy4Learning partnership has potential to really have a substantial impact on the educational experience."

Air Force One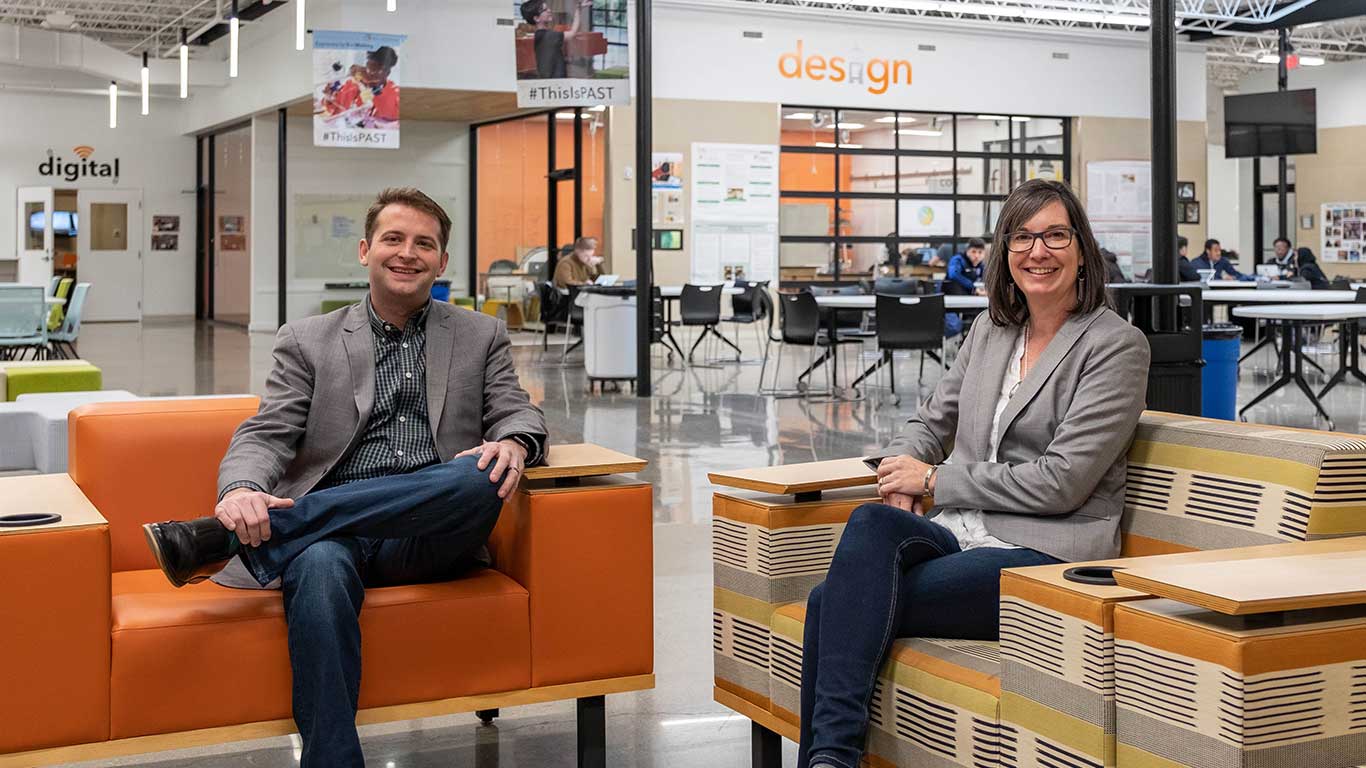 Ryan Prestel, CEO of JadeTrack with Annalies Corbin, CEO of the PAST Foundation
Energy Efficiency Creates An Educational Opportunity
Working closely with schools, PAST and JadeTrack have a shared vision to rethink school buildings as a teachable resource. School programs can be developed to challenge kids to solve for the problems that are relevant to their school facilities in real-time. Students are encouraged to think outside-the-box with questions like, by how much would we need to reduce our monthly energy spend to afford a new playground slide by next year?
JadeTrack technology is key for bringing the data to life. Using the JadeTrack energy dashboards and data reports from the actual school facilities, students can measure performance. With many schools implementing renewable energy projects like the installation of solar panels, students are able to help school districts understand the financial, social, and environmental impact of their investments. Carbon emissions, energy, water, and waste are all components that can be included in reports using the JadeTrack platform.
With the support of the PAST Foundation, teachers are guided through scheduled planning sessions, professional development, and workshops that make programs easy for faculty to implement.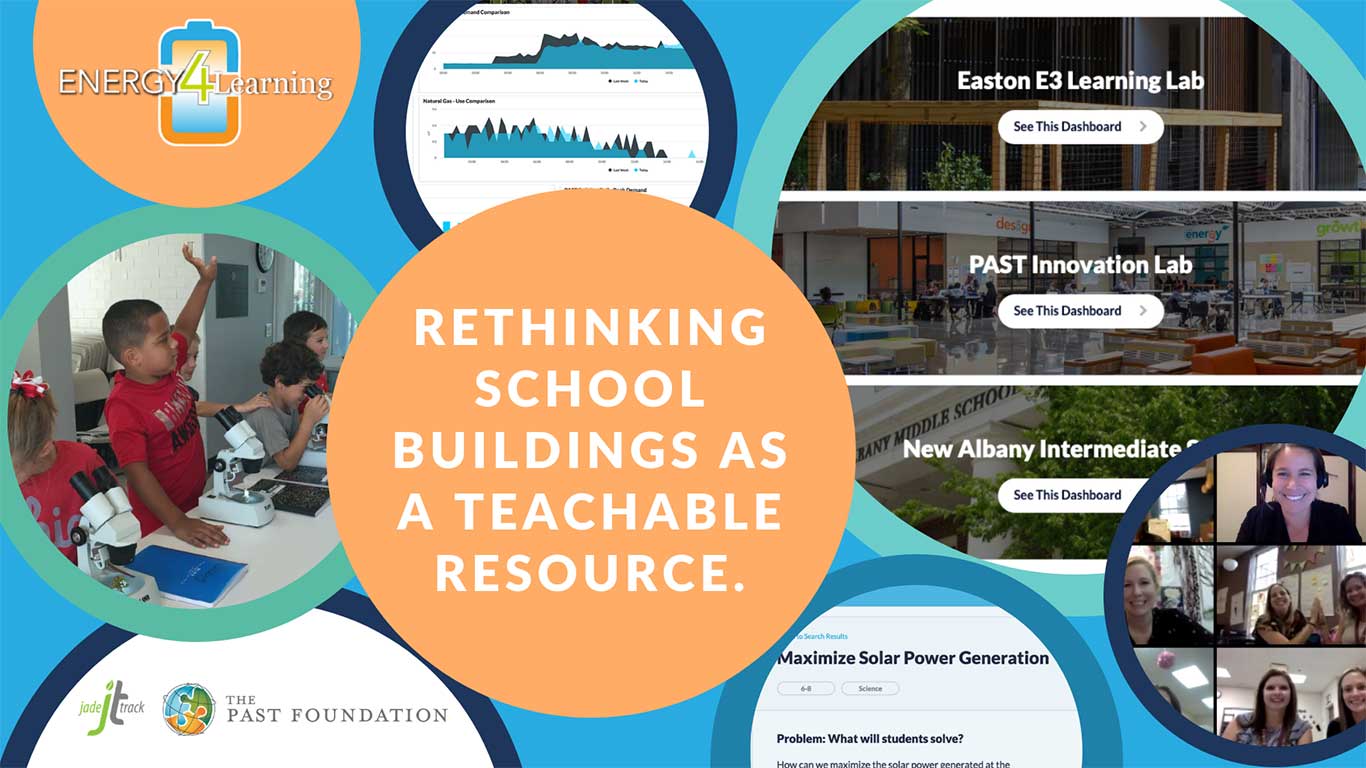 Energy4Learning engages students by turning school facilities into a dynamic source of scientific energy data
Program Benefits
JadeTrack has already partnered with school districts like Dublin, New Albany, and Olentangy to implement preventative maintenance and real-time energy monitoring solutions. Working together, the schools were able to use data, and low-cost and no-cost energy efficiency programs to generate hefty energy cost savings.
The Energy4Learning program was developed to engage students throughout the energy management process while promoting access to meaningful STEM projects in schools.
Ryan Prestel, JadeTrack CEO explains the benefits. "By providing the teachers and students with real-time data about their facilities, they gain experience applying data to solve real problems. Ultimately, we found the students were very interested in the data and seem to be naturally motivated to care about the environment and energy conservation."
Energy4Learning is an opportunity for students to hone their problem solving skills and allows them to practice collaboration, design thinking, creativity, and experimentation while addressing the task of providing clean and sustainable energy for the future.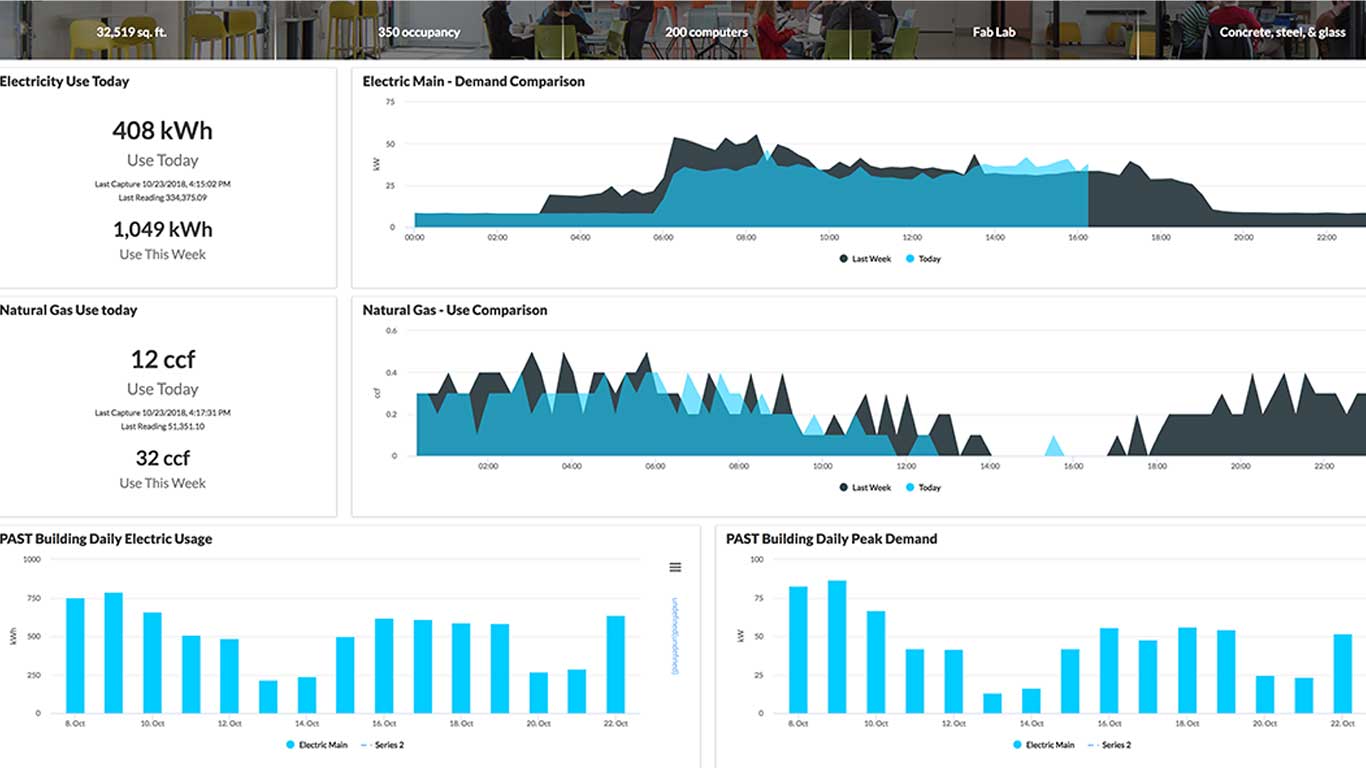 A look at the real-time energy dashboard of the PAST Foundation Innovation Lab
2018 BizTech Outstanding Technology Team Award
The Energy4Learning team attended the 2018 BizTech Awards ceremony after being selected as an honoree in the Outstanding Technology Team category! Thank you Columbus Business First for recognizing the project and it's role in contributing to a culture of technology leadership and STEM innovation in the Columbus region. We're all looking forward to expanding the program to more schools throughout Ohio soon.