Smart Columbus Brings Something New To Community
When you picture Earth Day, you might visualize people planting trees, riding bikes, and picking up trash. This year, Smart Columbus brought an added boost of excitement to the Earth Day celebration. On top of partaking in the typical activities, volunteers and community members were signing up for something you might not expect – a vehicle test drive.
As a part of the weekend-long Earth Day activities downtown, the Smart Columbus Ride & Drive Roadshow gave attendees the opportunity to get behind the wheel and experience what it's like to drive fully electric and plug-in hybrid electric vehicles. Several test drive options were on display and the fleet included an assortment of models from a range of manufacturers including Tesla, BMW, Nissan, Honda, and Mercedes-Benz.
Throughout the year, Smart Columbus will host as many as 70 Ride & Drive Roadshow events throughout the region to educate and promote the switch to electric vehicles – also known as EVs. The upcoming goals of Smart Columbus are BIG and here's why…

Smart Is Just The Start
Winning the 2016 Smart Cities Challenge, was the beginning of Smart Columbus. This initiative is funded by a $40 million grant from the U.S. Department of Transportation. Smart Columbus also received $10 million in additional funding from the Paul G. Allen Philanthropies Foundation, which aims to enhance decarbonization and promote electric vehicle adoption.
Behind the scenes of all the ongoing planning and execution is the ambitious Smart Columbus team; dedicated to reimagining the future of sustainable transportation one vehicle at a time.
Collaborating with local corporations, residents, and public service organizations Smart Columbus is aiming to increase EV adoption by nearly 5x by 2020.

Things to Consider When Buying an Electric Vehicle
Electric vehicle adoption represents a step in the right direction towards more sustainable transportation practices. The truth is, most people are aware that driving electric is a more environmentally friendly option, but may not fully understand what that means.
The benefits of driving an electric vehicle according to Smart Columbus include:
Easier vehicle maintenance – did you know EV's contain 1/100th of the parts compared to an internal combustion engine? That's a lot less moving parts to take care of.
Less likely to break down – with an EV you eliminate worrying about transmission problems or oil changes.
Affordability over time – you can save up to $10,538 in costs over a 5-year time span in comparison to combustion engine cars.
Greater tax incentives – 

the federal government offers a tax credit of up to $7,500 for new EV purchases.

Savings on fuel – in the state of Ohio, if you charge at home and drive about 12,000 miles a year you'll only spend $30/month on electricity.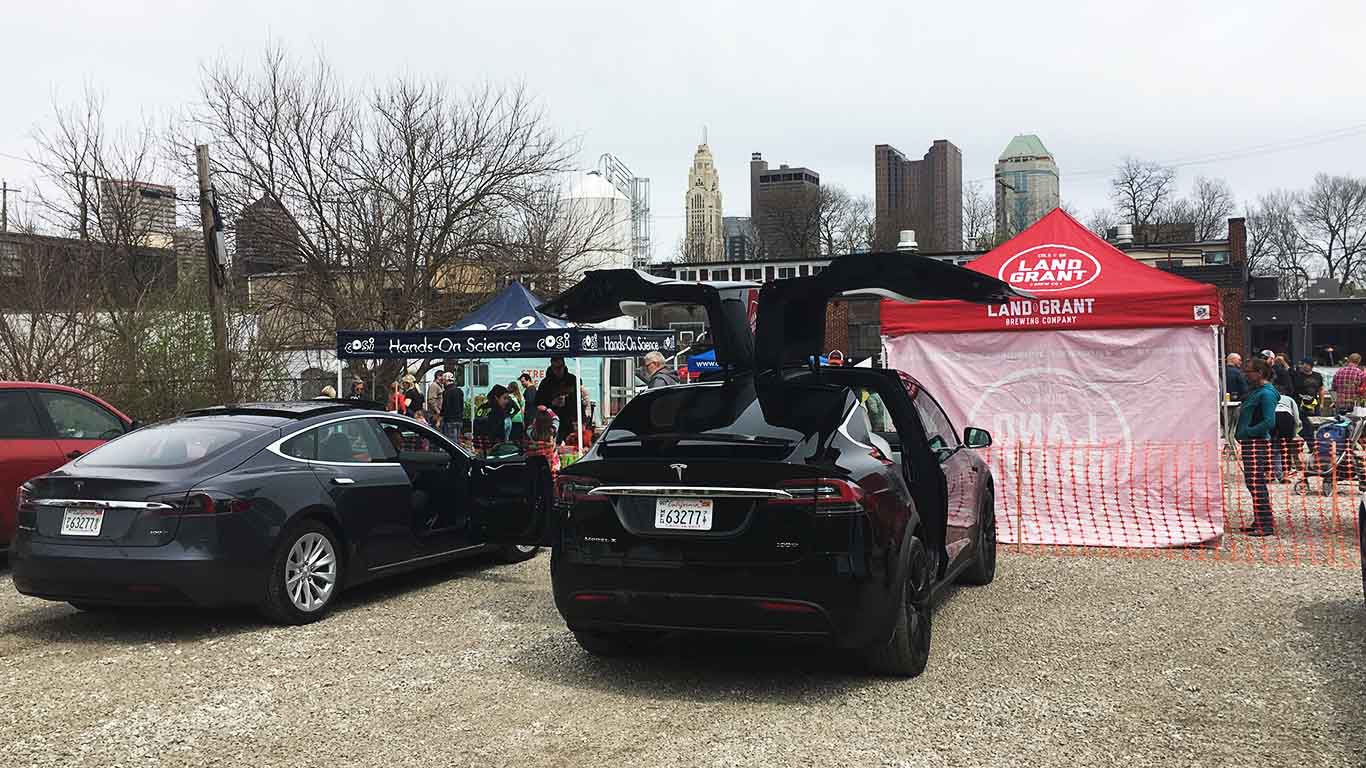 Roadblocks to Electric Vehicle Adoption
It's more attractive than ever to go electric, yet challenges still exist. In 2015, electric vehicles only accounted for .37% of Ohio's new car sales. That means out of 1,000 new car buyers only four of them were likely to purchase an electric vehicle.
What is keeping people from adopting new, cleaner vehicle technology? A few key barriers exist for everyday consumers as well as public and private organizations looking to purchase vehicles for their fleet.
Car buyers may be skeptical of electric vehicles due to barriers of:
Charging infrastructure

– access to charging stations (especially during long trips) is thought of as an inconvenience. The idea of waiting to charge an electric vehicle may be unattractive to first-time buyers. However, there are actually a large (and growing) number of charging stations across the whole country and most of them are free. Check out the free app 'PlugShare' to see all the stations near you.

Upfront cost

– the sticker price for an electric version of their dream car could seem out of reach. Another consideration is the added cost that comes with purchasing a home charging station. However, when the cost to refuel and maintain a vehicle are factored in, electric vehicles cost less to own over their lifetime than a combustion engine vehicle. In addition, IGS offers an incentive to help with the cost of purchasing a new at home charging station, which costs approximately $500-$700.

Vehicle size

– for SUV lovers, switching to an electric vehicle doesn't have to mean sacrificing cargo space. There are high quality plug-in hybrid electric vehicle options on the market including the BMW X5 and even a minivan- the Chrysler Pacifica.
The Future of Electric Vehicles Is Now
"In order to have clean air in cities, you have to go electric." – Elon Musk
An increase in electric vehicle adoption can (and is) happening right now. That's a result of breakthroughs in technology, infrastructure, and cost. Most of all, Columbus is in a position to help lead the way.
Longer-range batteries are becoming available from EV manufacturers. City partners are working to increase the number of EV quick-charging stations in the next two years. These plans are becoming a reality thanks to efforts by AEP and City of Columbus.
For the price conscious, the entry-level prices of electric vehicles are dropping. Financing rebates are becoming more available. Worrying about downsizing your cargo space? There are more SUV style hybrids and EVs already available.
Because of the integration of autonomous driving technology, environmentally conscious design, safety features, and cost efficiency – EVs are the all-around best option.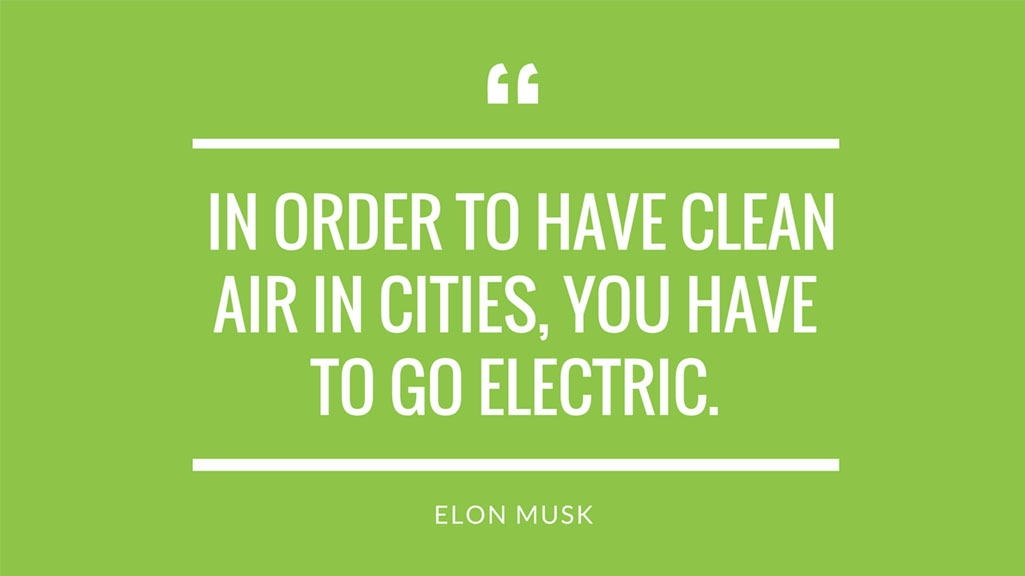 Smart Cities Lead the Way
Transitioning drivers to electric is just one of Smart Columbus' many initiatives. With the momentum of smart cities, now is the time for municipalities to use data-driven strategies for energy efficiency and sustainability solutions. Smart cities and their citizens are taking charge. Designed for governments and cities of the future, JadeTrack plans to help create more impact for Smart City programs.

Get Involved with Smart Columbus
Are you an individual looking to get more involved with Smart Columbus? There are exciting events happening here locally right by JadeTrack headquarters. We hope to see you there!

SmartCity Hackathon by Smart Columbus
Date: May 18th, 6:00 pm – May 20th, 8:00 pm
Where: Fintech71 107 South High Street Columbus, OH
About the event: "Join us for a weekend focused on building intelligent solutions by leveraging the Smart Columbus Operating System (SCOS). We'll provide a platform for open data as well as some vetted smart city use cases for you to leverage, to create innovative solutions for our community. The Hackathon is open to individuals of all backgrounds and skillsets. " – Smart City Hackathon

Smart Columbus Experience Center
Date: Summer 2018
Where: Downtown Columbus
About the center: "Smart Columbus program unveiled plans to open the Smart Columbus Experience Center along the Scioto Mile this summer, showcasing the program's tech-centric transportation initiatives. The new 3,000 square foot showroom at 170 Civic Center Drive will be open to the public six days per week, and serve as a place where residents can view how the various programs will work, test drive new vehicles, and can sign up to be involved in other participatory programs." – Columbus Underground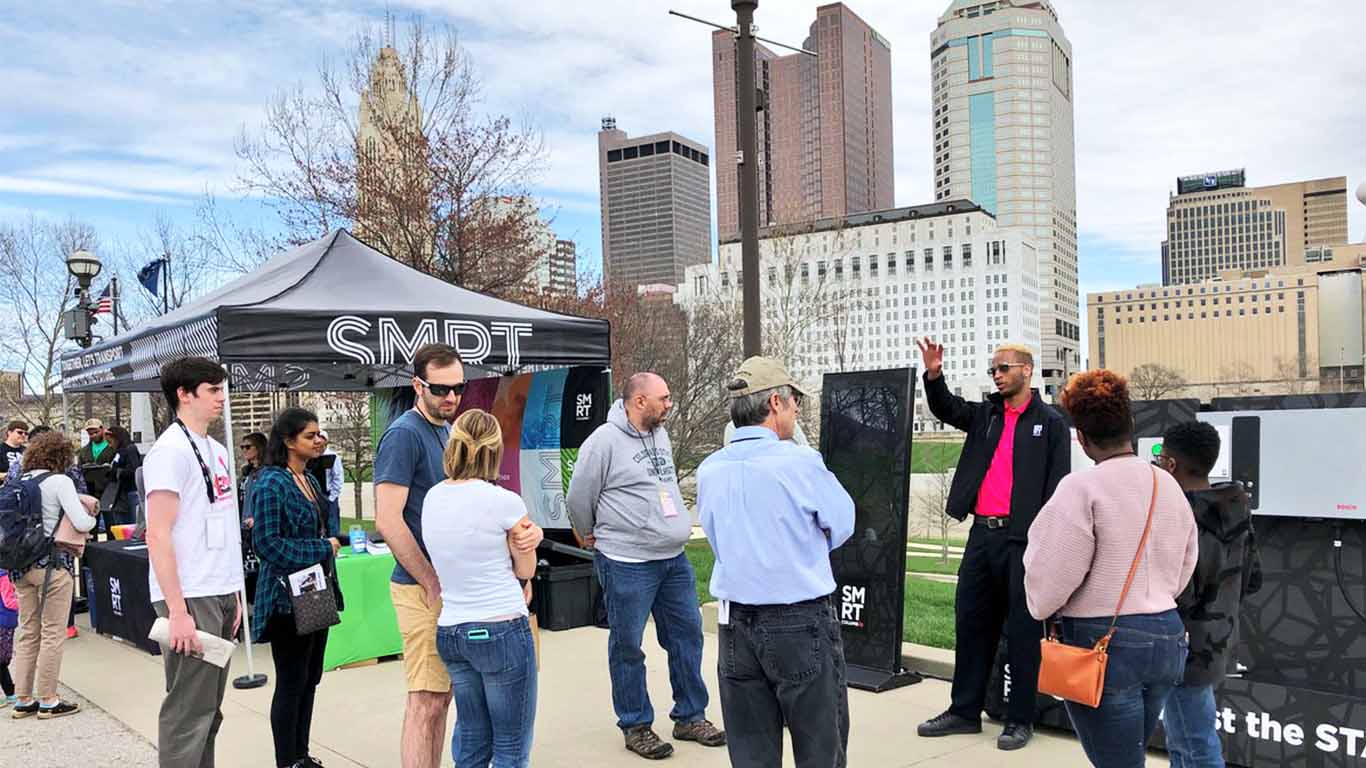 Image by Smart Columbus. Check out their Facebook Page.