Sustainability starts with reliable data

Energy management and sustainability strategies don't have to be complicated and don't have to be costly. JadeTrack's cloud-based analytics platform is powering some of the world's most robust energy and sustainability programs.
JadeTrack creates more impact from your energy efficiency & sustainability programs
Utility bill management
Reduce manual, time-consuming and error-prone data collection with spreadsheets by automating utility bill management. JadeTrack's platform automates data collection from thousands of utility providers worldwide. Utility bill management from JadeTrack reduces time, improves accuracy, and streamlines reporting of energy and sustainability program data.
Facility benchmarking
Synchronize your data seamlessly with ENERGY STAR Portfolio Manager for facility scoring that allows you to compare energy efficiency across your buildings. ENERGY STAR benchmarking provides insight with a robust set of metrics, access to all of your utility bills, and real-time alerts and notifications to quickly identify savings opportunities using data.
Real-time monitoring
Harness the power of your smart meter or sub meter your locations to gain instant insights into your energy usage and identify continuous improvement opportunities.
Sustainability reporting
Simplify the process of publishing a sustainability report by automating the data collection and reporting. With numerous ways to capture and visualize data, JadeTrack makes it easy to create a meaningful sustainability report.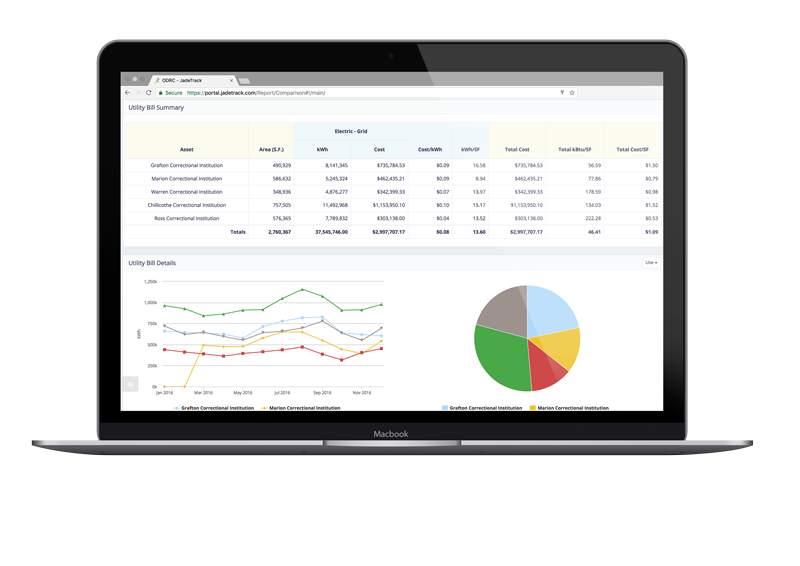 Sustainability and energy efficiency software platform
Improving efficiency can start with low and no cost solutions
Unlocking value
Controlling costs and creating efficiencies creates long term value and cost savings opportunity
Reducing waste
Less waste reduces environmental impact
Motivating people
People are motivated by sustainability and care about their work environment. Embrace it.
Delivering results
JadeTrack enables its clients to create long-term financial, social and environmental impact.