Taking Charge: Our Pledge For Increasing EV Adoption
Transportation remains a top offender of greenhouse gas (GHG) emissions in the United States. In fact, the Environmental Protection Agency says that between 1990 and 2017, total emissions from the transportation sector increased more than any other industry.
Although today there are more alternative options than ever to get around, our transport still largely relies on fossil fuels and personal car ownership.
To significantly reduce carbon emissions in a meaningful way, we need massive transformation. Plugging in our cars and trucks for the electrification of the transportation sector is a critical part of transporting our cities into the future. And we're excited to be a part of the movement.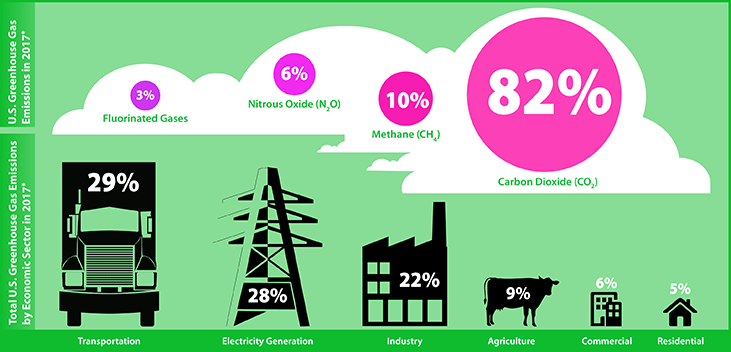 Our Pledge
The leadership needed or required to build more resilient and sustainable businesses often starts with passionate people. It's the reason why we appointed our Director of Strategic Partnerships, Leah Morgan, to serve as a Mobility Ambassador for JadeTrack.
In the past months, Leah has worked with Smart Columbus, the Smart City initiative for the region, alongside a growing number of enterprise partners to drive initiatives that will help shape the mobility future of the Columbus region. Together, we're promoting electric vehicle (EV) adoption and providing access to services and amenities that enable employees to drive electric.
And today JadeTrack is seriously excited to announce our pledge officially…
As a company founded by a group who believes in the power of data and analytics to help businesses operate more sustainably, we have a strong desire to set (and meet) goals.
This year, we set a goal to increase associate EV ownership by 450% from 0 prior to 2017 to 5 associates by December 2019. To accomplish this goal, we're launching an EV incentive program for part and full-time employees that includes 5 $4,000 rebates for new or used plug-in EVs. This is one of the biggest incentives to be offered in Columbus!
We look forward to continuing to work closely with local partners to invest in and expand the potential for smarter mobility in Columbus and beyond. Together thanks to Smart Columbus, we will ensure that the future of our transportation infrastructure harnesses the necessary changes in technology and transportation to improve the quality of life for everyone in our community.
Are you looking for more information? See below for some of the benefits of owning an electric vehicle plus ideas on how you can get involved courtesy of Smart Columbus.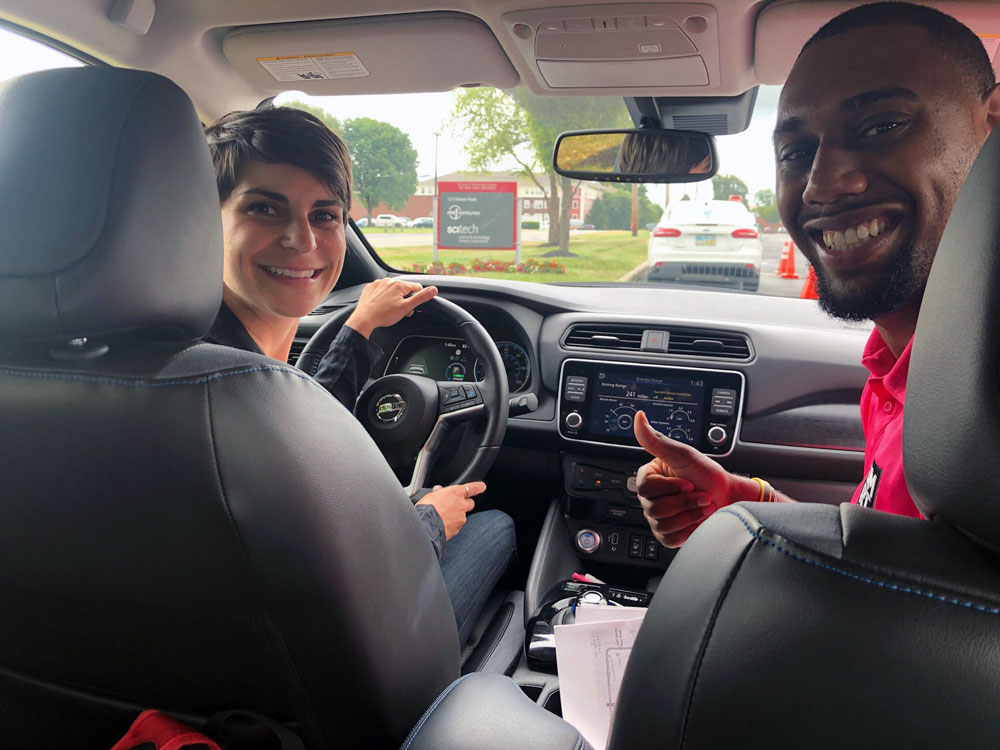 Electric Vehicle 101
Did you know that in 2015, just 0.37% of vehicles purchased in the seven-county region of Columbus were battery electric vehicles (BEVs) or plug-in hybrid electric vehicles (PHEVs)?
This places the Columbus area far behind the national average.
By 2020 Smart Columbus has a vision to push the number of EV's sold to 1.8% – an estimated growth of 486%.
There are many benefits to driving electric – besides it being increasingly more cost-effective and accessible. Like a cell phone, owners plug their EV in at home, at work, or while running errands.
And they can take advantage of a few more perks…
No More Oil Changes
More Affordable to Operate
$1.10 per Gasoline-Gallon Equivalent
Zero Tailpipe Emissions
Fewer Life-cycle Emissions than non-EVs
Fast Acceleration and Fun to Drive!
For even more great information on the benefits of owning an electric vehicle, check out this nifty Electric Vehicle 101 info sheet.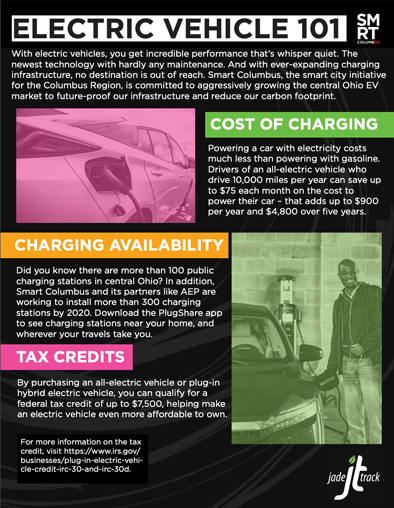 How To Get Involved
Enabling rapid EV adoption in your workplace is an important part of the equation.
There are many different services and amenities that businesses can offer at their workplaces to enable those who drive electric or drive less to work. And it's important to consider how to build access that meets your workplace needs and culture.
We encourage you to work with a partner like Smart Columbus to evaluate all the options and implement those that will make the biggest difference for your organization.
Talk to other organizations and utilize the many resources on the web, such as this holistic playbook on the best practices for creating EV rebate programs at businesses.
We hope to be an ally for those looking to learn more on how to get started with smart mobility incentives – so we're always here if you need us!